So as we prepared to set out this morning we were greeted by the following sight...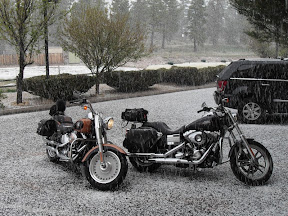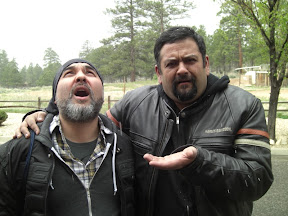 .......snow!
Hoping to get ahead of the worst of it we rugged up and set off....
Once we got past the Grand Canyon visitor centre and headed towards the East exit the snow stopped and we pulled over for a last look at the Grand Canyon. As we were mounting up a couple of butch New York-sounding lesbians warned us that there was heavy snow ahead....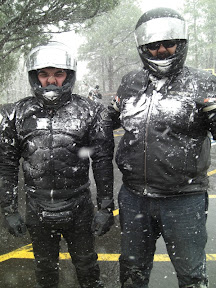 They weren't kidding!
It was by far the worst conditions I have ever ridden in! My helmet visor was covered in ice and only constant wiping allowed me any visibility at all. Thankfully we eventually got past the worst of it in about an hour as we exited the national park. When we pulled over at a roadside stall for a stretch I asked the Navajo salesman if this was unusual weather. He laughed and told me this is the high desert, it can snow here until late June....!
Location:Page, Arizona