It was a very cold ride today in overcast weather (I thought Arizona was supposed to be hot!?!) that included a brief detour through another part of Route 66 and a pit stop at the Road Kill Cafe, which was decorated in the manner of a typical American home...
And then it was on to the Grand Canyon itself (which has an IMAX theatre showing the Grand Canyon in 3D. Ben & I theorize that it is a big room full of cinema seats with a huge window behind a curtain...).
The photos don't really do any justice to how amazing the Canyon looks...or how cold it was today!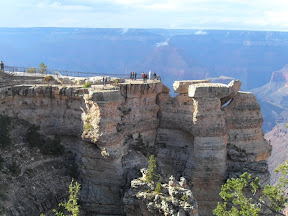 En route to the canyon we did meet a French couple who asked to have their photo taken with us. They'll probably tell their friends at home that they met "le american bikers!"
Location:The Grand Canyon!