Having survived hurricane-like winds, cold overcast weather and snow, today was true desert weather - Hot! Hot! Hot!
Riding through the Valley of Fire National Park, the red earth and rocks reminded me of Australia, and the temperature reminded me of an Aussie summer!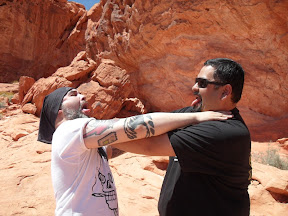 Our bikes and bodies melting in the desert heat, we headed on over to the impressive Hoover Dam...
Tonight we're in Vegas......
Location:Las Vegas, NV